6888th Legacy Tour: The Only African American WAC Unit of WWII
No mail, low morale.
Join us on our new 6888th Legacy Tour! 
The 6888th Central Postal Directory Battalion was the only unit designated as an African American battalion of the Women's Army Corps (WAC) to serve in Europe during World War II. Mail between troops and loved ones in the U.S. was sent overseas to Europe for processing. By 1945, warehouses in Birmingham, England, contained millions of pieces of undelivered mail and packages. Morale was low, communication between families and friends was lost, and WWII was not over.
At the time, about 7 million American government workers and troops were stationed in Europe. In three months, the 6888th broke records and processed millions of pieces of mail in austere wartime conditions to restore reliable mail service and troop morale.
On March 14, 2022, the President of the United States awarded the 6888th Central Postal Directory Battalion the nation's highest civilian honor, the Congressional Gold Medal. The 6888th is the only military women's unit to receive this award. Less than 200 recipients have been bestowed this national honor since General George Washington first received the Congressional Gold Medal in 1776.
To learn more about the 6888th, please read Historian Kevin Hymel's article, "No Backlog Could Defeat This All-Black, All-Female Unit."
Highlights
Glasgow, Scotland: An optional pre-tour will be offered see the port area where the 6888th arrived in Europe in February 1945  and traveled by train to Birmingham, England.
Birmingham, England: Here, they would start their 12-month mission to clear a 2-3 year mail and package backlog. The 6888th set up postal operations in neighboring facilities. Working around the clock in three shifts, they processed 65,000 pieces of mail per shift, broke records for postal operations, and cleared the backlog in three months. Visit the areas where the 6888th lived at King Edwards School, marched in the Central Square, and socialized in the city.
London, England: We will visit some general WWII sites, like Bletchley Park on our way in from Birmingham, and Churchill War Rooms, along with 6888th specific sites such as Grosvenor Square, where Commander Major Charity Adams reported in 1945.
Normandy, France: Besides seeing the major American sites in Normandy (Utah Beach, Omaha Beach, Pointe du Hoc, etc.), guests will visit the American Cemetery, where only four women are buried amongst the 9,387 American service members. Three of the women are from the 6888th who lost their lives in Rouen. The tour will have a gravesite commemoration
Rouen, France: Visit where the 6888th marched in a parade on May 27, 1945, held in honor of Joan of Arc at the marketplace where she was burned at the stake. We'll also see the Caserne Tallandier (barracks), Le Petit-Quevilly, where the 6888th lived, as well as Napoleon's statue, where 6888th members were photographed.
Paris, France: the tour ends in Paris with site visits to the Hotel George V, where WWII European Communications Zone Commander Lieutenant  General C. H. Lee established his headquarters and met with Major Charity Adams. See other hotels where the  6888th resided and visited, the Place de L'Opera,  Folies Bergere, and the Hotel Etats-Unis.
Day-By-Day Itinerary
DAY 1 Travel 
Guests book flights from their home airport to London Heathrow (LHR). You must arrive by 11 a.m. on Day 2. These will most likely be overnight flights. If you are interested in flying as a group, please indicate that in the comment box on the booking form.
DAY 2 Arrive in London
With everyone's flight landing by 11 a.m., there will be a designated meeting spot in Heathrow for guests to gather until departure. At 1 p.m., we will depart the airport on our way to Birmingham, our first tour city, where we will have a welcome reception.
DAY 3 Birmingham
After traveling a week and a half at sea and being chased by German U-boats, the 6888th arrived on the luxury liner, the Ile de France, in Glasgow, Scotland. They then traveled by train to Birmingham, England, where the mail was stored in warehouses and aircraft hangars. An estimated two years of mail and packages were held for the Americans and troops. The 6888th set up three daily shifts and processed upwards of 65,000 pieces of mail and packages per shift during their three months in Birmingham. Their efficiency broke mail sorting records and restored vital communications and morale between the troops and loved ones in the U.S.
Site visits today will include King Edwards School, where the 6888th are honored with a Blue Plaque to commemorate where they were stationed during WWII, and Victoria Square, where the women marched in the historical footage. We will also visit William Shakespeare's birthplace, Strafford-upon-Avon, where the 6888th took a photo with his statue. We will also have the opportunity to socialize in some of the pubs in the area where the 6888th frequented.
DAY 4 Birmingham to London
Departing Birmingham, we will start the trek to London. On the way there, we will visit Bletchley Park, where about 8,000 women performed a vital role in constructing and operating the computers used for Nazi code-breaking, including the Colossus and Bombe machines. After lunch on your own at Bletchley Park, we will continue to London, where we will visit Grosvenor Square, where the 6888th Commander Major Charity Adams reported in January 1945. Guests will have a free night to explore the city.
DAY 5 London
Our full day in London will include several WWII stops before another evening free to enjoy this cosmopolitan city. First, we will visit the Churchill War Rooms. These underground offices served as a meeting place for the War Cabinet during air raids for leading government ministers, military strategists, and Prime Minister Winston Churchill. We will also visit the Imperial War Museum London.
DAY 6 London to Normandy
Keeping things moving, we will depart London for the English coastal town of Portsmouth. Here we will visit Southwick House, the headquarters for the Normandy invasion. General Dwight D. Eisenhower, the Supreme Commander of the Allied Expeditionary Force, made his historic and momentous decision to commit three million men and 2,727 ships to the operation, which turned the tide of World War II. 
After the visit, we will board a ferry to cross the English Channel. Ferry services from Britney Ferries are like cruise ships with a lido deck, multiple cafes, bars and restaurants, and duty-free shopping. We will have a group dinner while crossing the channel, retracing the steps of Allied forces almost 80 years earlier.
DAY 7 Normandy
Our full day in Normandy will include all the major American WWII sites: Utah Beach, Omaha Beach, Point du Hoc, St. Mere Eglise, and more. We will also devote time to a special ceremony to honor the three 6888th members buried at the Normandy American Cemetery.
DAY 8 Normandy
Day 8 will consist of any leftover visits in Normandy.
DAY 9 Normandy to Paris via Rouen
After clearing all the mail in Birmingham, the 6888th were stationed in Rouen, France. We will visit the marketplace where the 6888th took part in a May 1945 parade ceremony in honor of Joan d'Arc, where she was burned at the stake. Other visits will include the remains of the Caserne Tallandier barracks where the 6888th were housed in Rouen. According to the U.S. Army Center of Military History, the arrival of a significant number of American women on the continent attracted the attention of both white and black U.S. servicemen, who "suddenly found that they had business in Rouen" and stepped-up security efforts were required to keep unauthorized personnel out of the 6888th's compound. After the unit's WAC Military Police were denied firearms, they trained in jujitsu, a martial arts form that effectively kept out unwanted visitors.
The group will depart Rouen for the two-hour drive to Paris, arriving at the hotel between 3 - 4 p.m. 
DAY 10 Paris
After efficiently clearing the mail at Rouen, the 6888th moved to Paris in October 1945. Officers were quartered in the Hôtel États-Unis, while enlisted women were housed in the Hôtel Bohy-Lafayette. Our group will visit both locations before a farewell lunch. After lunch, the afternoon and evening are free for guests to enjoy the City of Lights.
DAY 11 Transfer to CDG
Guest departing on Day 11 will have airport transfers to the Charles de Gaulle airport. For guests who want to extend their time in Paris, SAHT will book their room at the tour hotel under the group rate.
Book This Tour
Video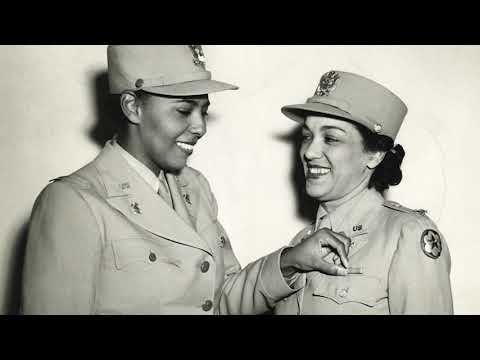 TRIP COST $3,990
Prices are per person based on double occupancy. For a single room add $700 single occupancy supplement.
Optional Glasgow pre-tour is $495 per person based on double occupancy with a $100 single occupancy supplement if rooming alone. Note: there is a six (6) guest minimum to run the pre-tour.
Book This Tour