80th Anniversary of D-Day
We had the honor of being at the American Cemetery at Omaha Beach for the 78th anniversary ceremony. It was amazing being there with some of the surviving veterans sharing the moment honoring them.
The Stephen Ambrose Historical Tours team is busy preparing for the 80th Anniversary of D-Day in June 2024!
If you are interested in traveling with us on one of our 80th Anniversary of D-Day Tours, please fill out a survey (button on the right). The survey has all of the tentative 80th Anniversary of D-Day itineraries, all of which will include several nights in Normandy and attendance at the June 6th Ceremony. Please select the itinerary you are most interested in.
 If you are traveling in a group, please only fill the form out once per party.
A $300 per person deposit is due to get first dibs to your preferred itinerary. These deposits will be 100% refundable up until the time that we announce the 80th Anniversary of D-Day tour dates and prices, which will be in the next month or so.
Once we have all the dates, prices and itineraries set, we will reach out to our "first-dibs interest list" before we publish the information on our website.
80th Anniversary of D-Day Tour Options
Operation Overlord Tour
Two nights in London followed by a night in Portsmouth.
Cross the English Channel by ferry.
4 nights in Normandy.
Final night in Paris.
D-Day to the Rhine Tour
A continuation of the Operation Overlord Tour.
After Paris, train to the Netherlands to study Operation Market Garden.
Visits in Belgium and Luxembourg cover Battle of the Bulge.
Tour ends in Frankfurt.
Optional Nuremberg and Berchtesgaden Extension
D-Day to the Rhine Tour guests can book an optional extension that continues past Frankfurt for a night in Nuremberg, followed by two nights in Munich (day trip to Berchtesgaden and Eagle's Nest).
Canadian D-Day Tour
SAHT is branching out from the American perspective. Our Canadian D-Day Tour option will focus on all the Canadian and British sites in Normandy. For those continuing past Paris, we will also visit World War I sites. This itinerary is still in development. Please complete a booking form to get the most up-to-date info as it becomes ready.
Normandy Campaign Tour
The Normandy Campaign explores the Normandy breakout, code name Operation Cobra, the Allied plan to take Brittany and trap the remaining German army in Normandy.
Private D-Day Tours
If your organization, school, or family/friends would like to have a private experience for the 80th Anniversary of D-Day, please let us know. Contact Terri Sercovich to go over details (office 504-821-9283).
All 80th Anniversary of D-Day Tours
Each 80th Anniversary of D-Day Tour will have its own Professional Historian, who will lead the tour, lecture and be available to answers questions, as well as a Tour Manager, who will ensure that logistics run smoothly.
The start dates for the groups will be staggered between May 29 – 31, 2024, but all groups will be in Normandy for several nights and guests will have seating at the official 80th Anniversary of D-Day Ceremony on June 6.
Highlights
Churchill War Rooms: The Churchill War Rooms, the underground nerve center for Britain's war effort, is always a highlight.
Normandy Beaches: Visiting the invasion beaches of Normandy: Omaha and Utah and the American Cemetery are one of the most moving things you will ever do.
Ste-Mere-Eglise: You will not find this stop on other Band of Brothers Tours: the iconic church and steeple at Ste-Mere-Eglise and the guns at Longues-sur-Mer.
Pointe-du-Hoc: Stand where the Rangers scaled the cliffs at Pointe-du-Hoc and marvel at how they were able to succeed while under enemy fire.
Day-By-Day Itinerary
Group itineraries to be announced.
Tour Dates
Canada's D-Day Experience: 80th Anniversary

Operation Overlord: London to Paris, 8 nights

D-Day tour + Berchtesgaden extension, London throught Munich, 15-nights

D-Day to the Rhine: London through Frankfurt, 12-nights

Normandy Campaign: The Breakout
Fill out survey
Video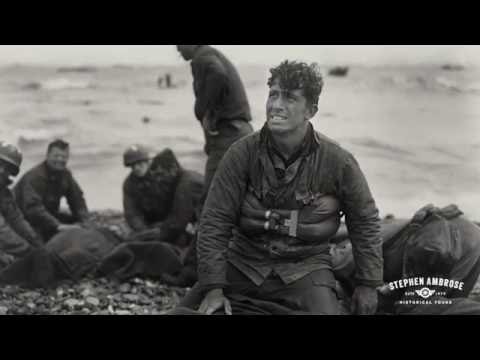 Trip costs will be announced soon. Please complete the survey for first dibs when we are ready to announce all tour details.