Commemorative Air Force: 80th Anniversary of D-Day Tour
I participated in the 75th anniversary tour in 2019 and plan to go again in 2024. This tour is a great way to understand some pivotal moments in history, and to share the journey with other CAF Supporters.
Commemorating the 80th anniversary of the D-Day invasion in 2024, the Commemorative Air Force (CAF) and Stephen Ambrose Historical Tours are again offering a special tour to friends of the CAF. This is the only tour specifically designed for the CAF and includes special aviation-related activities that may not be offered on other historical tours.
Highlights
Welcome Dinner at the Royal Air Force Club, London
Full day at IWM Duxford, where flyovers are scheduled
Chance to sit in Spitfires and Lancasters
Battle of Britain bunker
Greenham Common - the airfield from which CAF's famed That's All, Brother, the aircraft that led the main aerial invasion, departed 80 years ago.
Normandy - frequent aerial displays over historical sites
D-Day Wings Museum Caen-Carpiquet
Paris-Le Bourget National Air and Space Museum of France
Day-By-Day Itinerary
Day 1 - May 30
Guests board their overnight flights to London Heathrow. Please plan to arrive at LHR by 10 a.m. on Day 2, May 31, 2024.
Day 2 - May 31
Guests arrive by 10 a.m. at London Heathrow and go to the tour's city hotel. We will depart around noon for a half-day tour of London, including the Churchill War Rooms. An evening welcome reception and dinner will follow at the Royal Air Force Club.
Day 3 - June 1
Day 3 will be a full day at the Imperial War Museum Duxford. It served as a base for many Spitfire and Hurricane pilots during WWII. Several American C-47 transport aircraft are planning to journey to Europe in 2024. We will have an opportunity to meet up with them in Duxford. Fly-overs and the chance to sit in Spitfires and Lancasters are scheduled.
Day 4 - June 2
Goodbye London, Hello coastal England. We will visit several sites: Battle of Britain Bunker and Greenham Common, the airfield from which CAF's famed That's All, Brother, the aircraft that led the main aerial invasion, departed 80 years ago.
Day 5 - June 3
Retracing the steps of so many Allied troops during the invasion, we cross the English Channel by water on Brittany Ferries, arriving in Normandy just after lunch. We will then see a few sites before our first night in Normandy.
Day 6 - 9 - June 4 - 7
The four full days in Normandy will include visits to all of the American sites and some British, Canadian, and even German sites to give guests the full picture of the Battle of Normandy. The days will likely include frequent aerial displays of aircraft flying over the historical sites.
June 6, 2024, will be the anniversary ceremony at the American Cemetery. This will be a full-day activity.
Day 10 - June 8
After checkout from our Normandy hotel, we have a full day of aviation on our way to our final hotel at the Paris CDG airport. This includes the D-Day Wings Museum Caen-Carpiquet and the Paris-Le Bourget National Air and Space Museum of France.
Day 11 - June 9
Breakfast then transfers to Paris CDG airport. For guests taking the optional post-tour extension, you will take the high-speed train to Brussels.
Optional Post-Tour Extension: Operation Market Garden and Battle of the Bulge
Day 11 - June 9
Extension guests continue the tour to the Netherlands, where we start the exploration of Operation Market Garden. Sites include the famous "bridge too far," drop zone of Easy Company Market Garden, and the Airborne Museum "Hartenstein."
Day 12 - June 10
We start our study of the Battle of the Bulge in Lanzareth, where the main thrust of the German forces came in. Sites include the Ardennes, Dragon's Teeth at Aachen, Malmedy Massacre Memorial, and several more locations.
Day 13 - June 11
Battle of the Bulge sites continue as we move south to Luxembourg, including the NUTS! Museum, Bois Jacques, and other 101st sites.
Day 14 - June 12
Before departing Luxembourg, we visit the American Cemetery, the final resting place of Gen. George Patton. Our last night is near Frankfurt, where we will have a Farewell dinner and commemorate the sacrifice of the Allied troops from 80 years earlier.
Day 15 - June 13
Breakfast, then transfers to Frankfurt FRA airport.
Tour Dates
May 30 - June 9, 2024

June 9 - 13, 2024 - Post Tour
Book This Tour
Video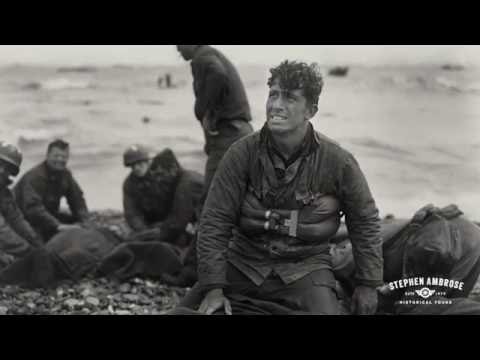 Photo Gallery
Tour Costs (London - Paris)
$6,900* per person based on double occupancy
$1,000 single occupancy supplement if rooming alone
Note 1: $800* of per person cost is a tax-deductible donation to support CAF activities related to the 80th anniversary of D-Day. Tax deductible to the extent allowed by law.
Note 2: This price does NOT include trans-Atlantic flights.
Optional Post-Tour Extension (Compiègne to Frankfurt)
$2,000 per person based on double occupancy
$400 single occupancy supplement if rooming alone
Book This Tour